Luke Whearty: "An inflated ego is the worst possible trait in a bartender"
Luke Whearty was born in Australia and moved to Singapore to open Operation Dagger, a bar which quickly made its way onto the World's 50 Best Bars list and looks nothing like any other bar in the world. Here, you can't order a single classic cocktail; the menu contains only original drinks, and the interior resembles an art gallery more than a watering hole. Now Luke has returned to Melbourne to open a new project, Byrdi – a bar which uses only local seasonal produce, cares for the environment, and supports local farmers.
Honestly, I think that the bar works without me far better than with me. I quickly get bored of doing the same thing day after day, and I always want to change everything. For example, our menu completely changes every three months. Not many people in the world work like that
From the very beginning, I didn't want the bar's existence to depend entirely on me. Too many bars in the world exist only thanks to the owner or the head bartender. I don't think that this is a good business model. That kind of bar isn't independent
I never look at a person's work experience when I'm hiring. The best members of my team came to me with no experience at all. My style of work is very different from what's done in the majority of other bars, so no matter what, experience probably won't helpvery much
An inflated ego is the worst possible trait in a bartender. Unfortunately, it's also very common. For me, a bar is about teamwork first and foremost
When you have your own bar, you need to be ready for never-ending problems. Something happens every day, and you need to do something about it. So if you have a hard time dealing with stress, it's better to not even start
Making to-do lists for myself and my staff really helps me. Everyone knows exactly what they're responsible for, what to do, and when to do it. You don't need to clarify anything. This is how I leave space and time for creativity
It's really important to know how to adapt to every guest. Not just adapt what you say, but how you say it – the language and the gestures you use. But you still need to be yourself, of course.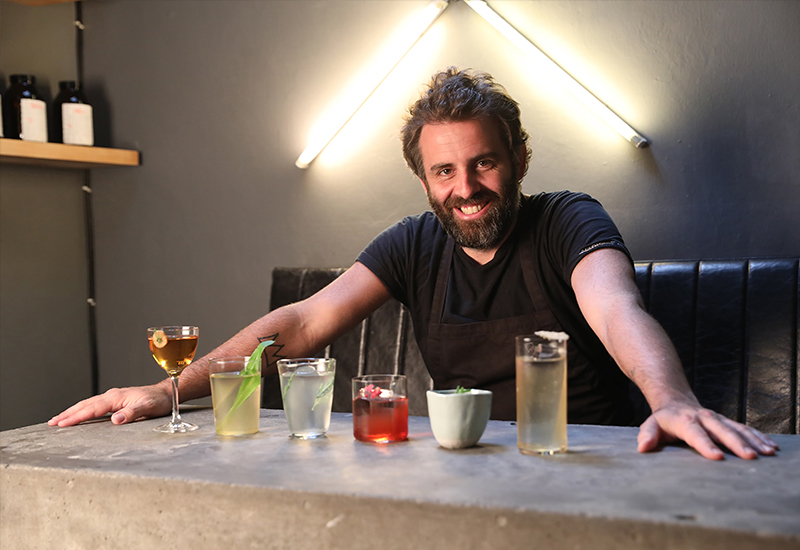 In Australia, bartending is still not considered "serious" profession, especially among the older generation. People often don't believe me that you can make a living from this.
I never spent a day at a bartending course, but I did have the opportunity to study with all kinds of different people – the truly passionate professionals whom I worked with. I wouldn't trade that experience for anything.
We never had the goal of being the best bar. We wanted – and still want – to be a different bar. And I think we're capable of this. I see how people try to copy us, and I like that.
We never followed any templates and never looked to others for ideas. The world is full of bars that are different from one another in name only. We were inspired by art, design, and the cultures of various countries – but never other bars.
We don't use classical recipes on principle. Every cocktail has something very personal in it. We start from tastes and ingredients that we like. But sometimes, something that resembles a classic will pop up.
The best kind of experience is always a new experience. And you won't give a guest a new experience if you'll just keep changing the Negroni or Bloody Mary recipe little by little.
Most often, I get bored drinking cocktails in other bars. I prefer wine.
My father was an alcoholic, and all through my youth, I was firmly opposed to alcohol. With age, I understood that alcohol can be more than just evil, but something beautiful, too. I work with its light side. Often, I don't even mention the alcoholic ingredients in the description of a cocktail because that's not the most important thing for me.
If I believed that people came to bars just to get drunk, I wouldn't work in this field. Just like a chef would be upset if they knew that people came for their food just because they're hungry.
Author: Marina Sagomonyan